Works in any voice related application, like
Available for Windows 7, 8 and 10
Not the ordinary media player
or can an ordinary media player play sounds on the microphone?
Soundpad is designed solely for that purpose.
That's why Soundpad offers many different functions to give you the best sound to microphone experience.
Easy Setup
Soundpad gets installed for your default recording device. In most cases it is the microphone. But you can still configure it to be also available on any other device or many different devices at the same time.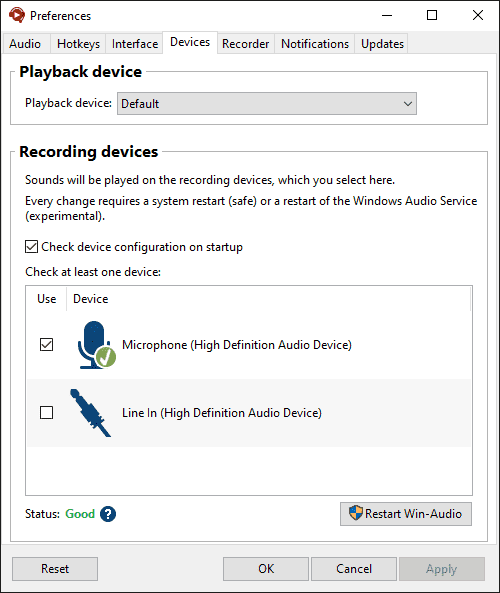 Casual Hotkeys
Define one Hotkey per sound file, e.g. F1, Ctrl+G or Shift+Mouse1.
Numpad Hotkeys
Press Alt+17 to play the sound, which you defined that hotkey for.
Index Hotkeys
Press Ctrl+Alt+1 to play the first sound in your list or Ctrl+Alt+25 to play the 25th.
Sound Recorder
If you hear a cool sound on youtube, on a stream or in-game, just open up the recording panel and record "what you hear" with ease.
You may also define hotkeys to start and stop recording even when Soundpad is not in the foreground.
Sound Editor
Cut your recordings or any other sound with the built-in Sound Editor.
Just right-click the sound and choose Edit file.
Function overview
| | |
| --- | --- |
| Headphones | Play sounds just for yourself on the default speakers/headphones, just like a regular media player does. |
| Microphone | Play sounds to your interlocutors only. |
| Both | Play sounds on your speakers and the microphone. This is the default when playing sounds by double-click or hotkey. |
| Hotkeys | You can set hotkeys to any sound to play them quickly and easily when running fullscreen games. |
| Block voice | If your microphone is noisy, then this option is for you. Instead of adding the sound to the microphone signal, it will replace the signal, so that your friends will hear the sound in source quality. |
| Instant search | Find sounds faster by using the search bar. Press Enter to go through the hits and press Ctrl+Enter to play the sound. |
| Sound lists | Save and load different sound lists. |
| Sound Recorder | Record "What you hear" to create new sounds. |
| Sound Editor | Edit your sounds directly without having to run other applications. |